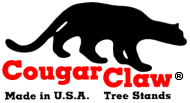 Welcome to a new generation of climbing tree stands! Cougar Claw Tree Stands start with a premium grade, all-welded aluminum frame and are Made in the USA!
About Arkansas Whetstone
We are family-owned and operated since 2005. The stones are mined here in Central Arkansas in the foothills of the Ouachita Mountains. Every aspect of our business is done right here in Central Arkansas from harvesting the stones to cutting them. Even the handmade boxes are made right here in Central Arkansas. We can do custom orders and laser etch each box to give it a personal touch. We have a vested interest in our community. We employ several people in our process and have created a good and honest reputation. We are proud to be 100% AMERICAN MADE!
Visit Website